Truth in our services and in our way of business.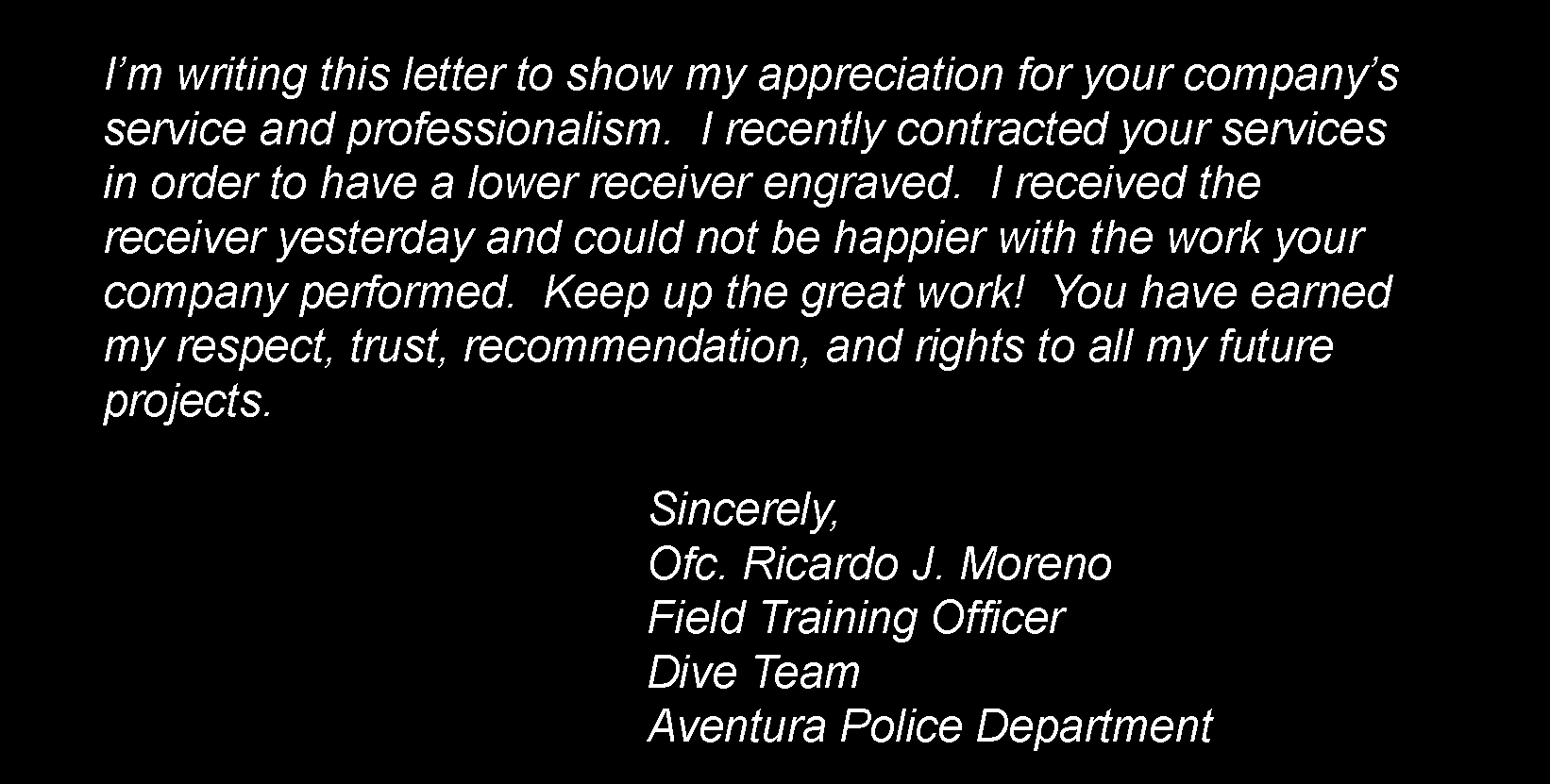 AR15 Lower
Engraved Aluminum Cerakoted
Motor City Gun Works
AR15 Upper and Lower Engraved Aluminum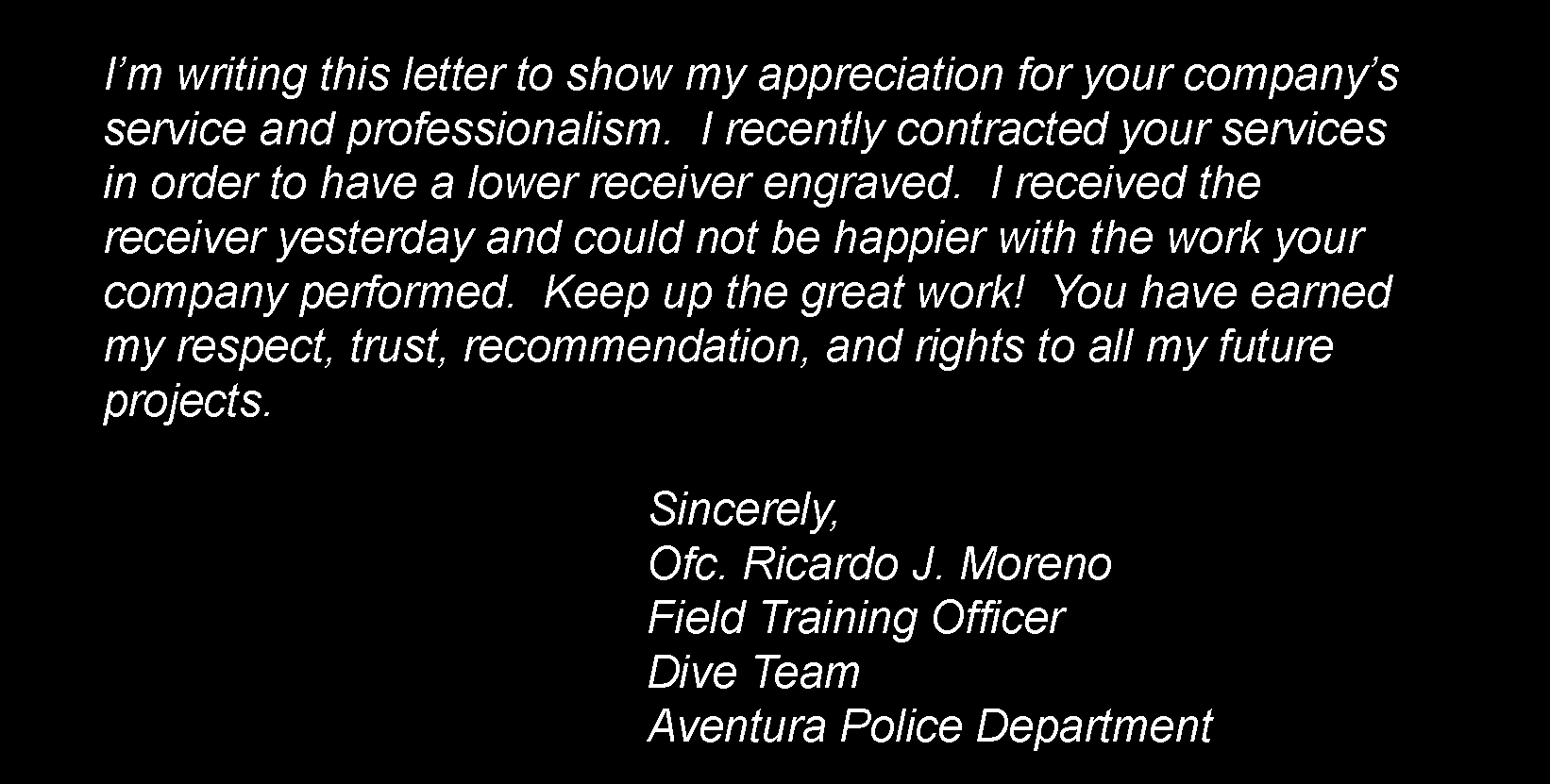 Click on image to enlarge.
Having Veritas Engrave Your Long Gun is as Easy as 1-2-3
STEP 1:
Complete our Long Gun Engraving Order Form. Feel free to contact us via email or call us at 269-641-7500 with any questions.
STEP 2:
Ship your item(s), a copy of your completed Order Form, and a copy of your driver's license (if sending the serialized portion of the gun). We have an FFL, so you can ship directly to us and we can ship directly back to you. Be sure to check with the carrier regarding their policy for shipping long guns.
STEP 3:
We will work with you to develop your custom design. As we go through the design process, we will send you proofs so you can see what the engraving will look like before we even do it. We want this to be your piece, so we will make changes until you are satisfied with the artwork. Once we have finalized the concept and received your approval, your firearm will be placed into our production queue.
PRICING:
Because each piece is unique, all pricing must be quoted. Pricing is based on the area engraved, so you are welcome to give us a budget to work within or we can furnish you with an engraving cost once the design is complete.
PAYMENT:
After the engraving has been completed, and before we ship, we will contact you for payment. In certain circumstances, a down payment of 25% may be required. For your convenience, we accept major credit cards and PayPal. We will accept a money order sent with your weapon, just be sure to include extra funds to cover return shipping.
Engraved Henry Golden Boy
What a unique way for a father to say "I love you" to a son. Veritas was contacted by the owner of this Golden Boy to create an amazing expression of a father's love. A photograph of the son was provided and Veritas' graphic designers went to work converting it to an engravable format. Adding scrollwork embellishments around the photo created a stunning effect that makes the firearm a true showcase item. (Please visit our Graphic Design page for more information.)
Engraved Shotgun
Being the recipient of all historic family guns, our client had the forethought to identify each one so their lineage might not be forgotten. Engraving initials was all that was requested of Veritas. This commission of marking multiple firearms with three letters was simple for Veritas, but represented a loving tribute from one man to countless future generations.
Engraved Henry Big Boy
Who would give an engraved gun as a wedding gift? People who love guns, that's who! This special piece was given from wife to husband. A copy of their wedding invitation engraved on this Henry Big Boy will serve as a loving reminder of the special vows taken on an unforgettable day.
Scratched Henry Receiver Cover?
Have a scratched Henry receiver cover (Model H001, H003, H004)? We have creative way to fix it! Why not have it cerakoted to your desired color, then do a color ink inlay in the engraving? There are so many ways to go with an option like this. Whether you'd like to pay homage to your favorite team and use their colors or go a little classier with a simple black and gold, the possibilities are almost endless!
Engraved Henry Golden Boy
This gun represents a monumental change that will be remembered for many years. A long-standing organization, the Mitzpah Shrine of Fort Wayne, Indiana, was moving from a beloved historic building to a new facility. They decided to have a picture of their old building engraved on one side of the Golden Boy and a picture of their new building engraved on the other side. Given as the grand prize of their annual fundraising raffle, this customized rifle helped drive the donations to an all-time record high.